You have shown your sensibility and mutual love by choosing Maldives as your honeymoon destination. Now it is our turn to leave you with the detailed content for the honeymoon in Maldives guide.
The Maldives is the perfect imagery of heaven on earth and a plethora of life beneath its shores. Every year lovers from every corner of the world book Maldives tour packages to make Maldives the home of their love but return from a disappointing honeymoon in the absence of a travel guide.
Before visiting this gorgeous island, you should know about the best places to stay in Maldives, the best time to visit Maldives, places for honeymoon couples, and activities to sate the couples' excitement.
If you are going on a honeymoon in Maldives and don't know about the best time, you will be sad on vacation, and the rain or the scorching sun will leave no stone unturned to spoil your experience.
You have to plan at the right time to set foot on Maldivian soil, which we are always ready to help you.
Best Period for Visiting Maldives for Honeymoon
Maldives is an island with a tropical climate where you will find mainly two seasons. December to March is a less humid period, a great time to stroll through the island's cities and enjoy street food. If the couple wants to indulge in water activities, then the months of November to April with 9 hours of sunshine is the perfect time to lie on the beach and admire the clear sky.
The couple will enjoy ample time in Maldives from November to April. This is season perfect for beach camping, shopping, city-hopping, and water sports like surfing and snorkeling.
For a seamless honeymoon in Maldives, you have to avoid the wet season between April and October. Although, every season has its advantages and disadvantages. Resorts will be available at cheaper rates due to less tourist load during the wet period. Still, November to April is the peak time that can make your honeymoon trip relatively expensive.
Most Romantic Things to Do in Maldives
Maldives is the perfect honeymoon destination with ample opportunities to sunbathe on the white beaches, indulge in island excursions and water activities. Check out these most preferred things to do in Maldives for loving couples.
Indulge with Ocean Creatures in Underwater Maldives
Stand on the glowing beach of Vaadhoo island at the end of day
Also, Check – How To Plan For Your Trip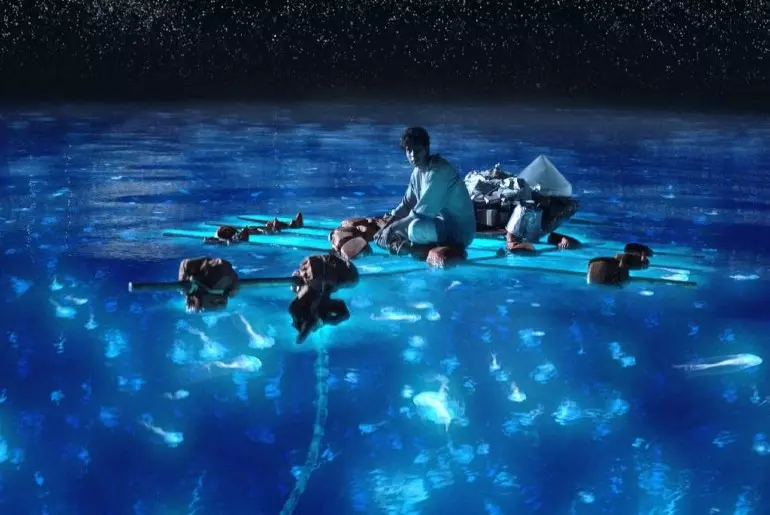 Sail a cruise in the Indian Ocean, Maldives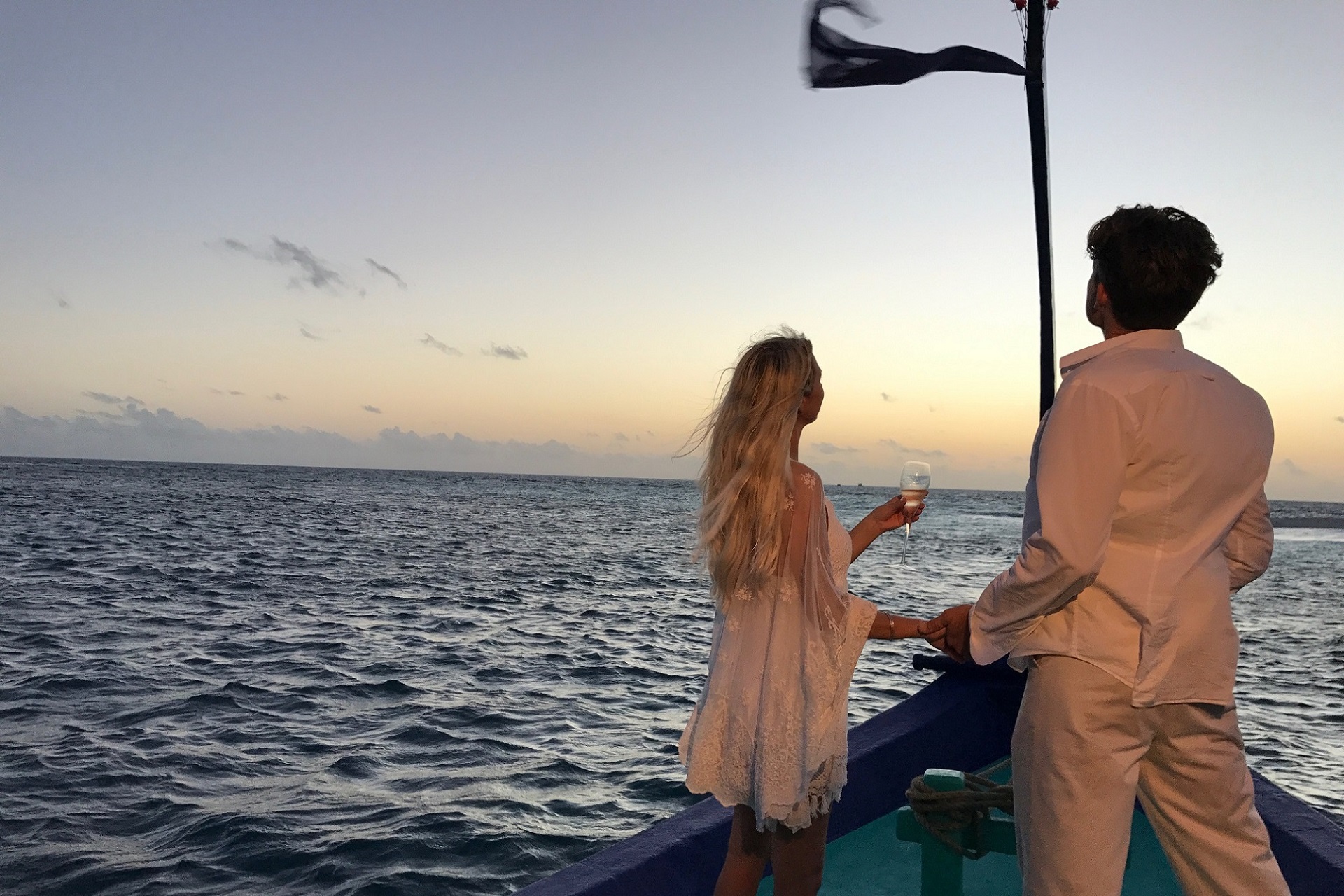 Get rejuvenated together at a couple's spa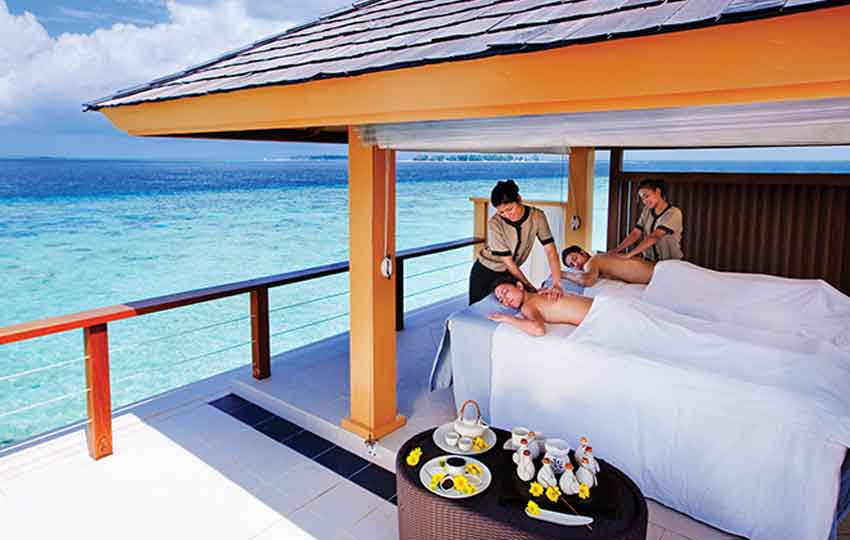 Enjoy the dolphin show (where nature itself dance in front of you)
Dine at underwater restaurent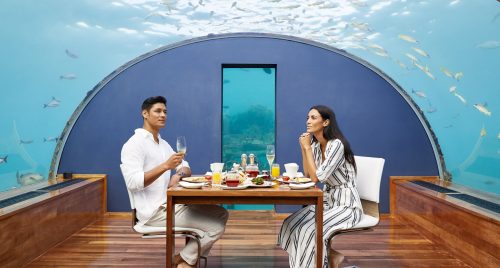 Gaze the island from a seaplane (Seaplane riding)
Places to Explore for Honeymoon Couples at Maldives
To make your honeymoon a memorable one, you must accommodate the best places in Maldives. After all, you are on a limited vacation, so why waste it on the unworthy places. Scroll through for the best places for a honeymoon in Maldives.
Bikini Beach
The most unique island in Maldives for loving couples where both of you can spend quality time together and soak in the sprawling sea in front of you when you are bored lying on the sand. Bikini Beach in Maldives is considered the best for water surfing and snorkeling as well as the majestic resort stay option with companions.
Milaidhoo Island
If you both have an inclination towards nature, then the moments spent on Milaidhoo are worth cherishing forever. This island is a perfect place where tourists come in search of peace, for the biological richness of Milaidhoo, UNESCO has declared it a Biosphere Reserve property.
Mesmerizing Bioluminescent Beach
The bioluminescent beach is an untouched part of Maldives where you must spend an evening. In the night light, this place looks like a galaxy, seeing this unique match of space with the sea, you will kneel in front of nature. So if you are a bit sensitive towards beauty then don't miss out on Bioluminescent Beach.
Lily Beach (a luxury)
Lily Beach is the best place for couples who think of money as mud and want to spend everything on their honeymoon. Whatever you can imagine for a wonderful honeymoon, whether it is a luxurious resort, sitting in a water hose, and cruising on the sea by plane, you will find everything at Lily Beach. The island also entices Hollywood personalities for a luxurious honeymoon in Maldives.
Maldives Honeymoon Trip Budget
Your Maldives honeymoon trip budget completely depends upon your travel style and duration. You can also opt for low-cost and reliable Maldives honeymoon packages with roaming routes starting at Rs.75,000/-. It will also depend on your luxuries craving. If you want to give your significant other the best of life experience, then this 4 day Maldives package will show you the true definition of luxury.
In a nutshell, a couple can go for a honeymoon in Maldives at the cost of 75,000 to 100,000 rupees per person.
So now you have a comprehensive idea about your honeymoon trip to Maldives. So look forward to booking Maldives honeymoon packages at exciting prices at the Roaming Routes website.